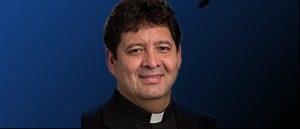 "Voices of Hope" is a Live 2 – Hour Program and has been on the air for over 5 years and with Holy Family Radio from the beginning. This program is devoted to the prayers & intentions for people all over the world. It started out with a small following, but it has been increasing steadily over the years with streaming over the internet and the many pilgrimages and visits Fr. Jose has made all over the country, Mexico and beyond.
Fr. Jose's goal is to establish prayer Centurions all over the world. Each centurion is asked to gather 100+ local people to pray from 8 am to 10 am for local petitions and for every other group around the world. These centurions often call in during the program to share their petitions and actively participate in this outreach effort. There are already a good number of Centurions established around the country and around the world. Groups in Grand Rapids and Kalamazoo, Illinois, Wisconsin, Texas, and more. Internationally, there are groups in Argentina, Mexico, and more. Hundreds of thousands of people praying for each other's need's and intentions. And growing in numbers every day.
If you would like to become a prayer Centurion, please contact Fr. Jose Quintana or Juan Alcantara at voicesofhope@holyfamilyradio.net . Join us in prayer and offer up your intentions from 8-10 am every Saturday morning.
Host: Fr. José Luis Quintana
Mini-Biography: Fr. Quintana has a PhD in Preaching. He is the pastor of Shrine of St. Francis & Our Lady of Guadalupe (Grand Rapids). He offers Mass in both English and Spanish, as well as, shepherds his congregation to Christ.
Producer: Juan Alcantara – [ voicesofhope@holyfamilyradio.net ]
Program Schedule: Saturdays, 8:00 am – 10:00 am
Schedule
Saturday - 8:00 am - 8:59 am
Saturday - 9:00 am - 9:59 am